We are pleased to announce that the Apimo software is integrating Facebook Marketplace with its gateway offer at no extra charge.
What is Facebook Marketplace?
Facebook Marketplace is a convenient destination for people to discover, buy and sell items. People can find what they're looking for by filtering their results by location, category and price.

Simply fill in your rental property forms as you usually do in apimo. We will only send the information you choose to disclose, just like we already do for real estate websites and portals.
You may be pleased to know that Facebook allows up to 20 HD photos for each property file, so take advantage of this!
If you lack the time to shoot photos or if you're looking for a professional photograph, don't forget that you can rely on the quick and efficient services (photos and videos, energy certificate, plan drawing) of our partner Lightshop. Click here to get more information.
Receive Facebook Marketplace leads directly into your Apimo interface
As Apimo is now a Facebook Marketplace Listing Partner, Apimo's users can post their rental listings on Facebook Marketplace at no extra charge.
All of the leads from this audience are directly sent to your apimo account, making your job easier.
The information coming with each lead is:

- The customer's email address
- The message detailing the request
- The phone number if provided (this information is optional)
- The first and last name of your customer
An incoming lead will create a new alert in the Action icon of Apimo's homepage, located in the top right corner of the page, as well as in your lead list.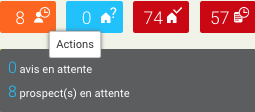 It's up to you now!
How do I start listing on Facebook Marketplace?
If you already have Apimo's free portal package:
No action required! Your rental listings will shortly be posted on Facebook Marketplace.
If you would like to activate Facebook Marketplace:
Please send a ticket to Apimo's technical services by following the steps below.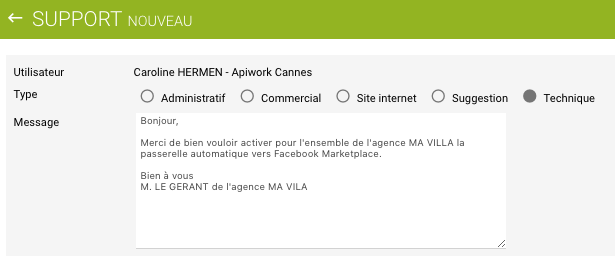 Or to opt-out of listing on Marketplace, please send a ticket to apimo's technical services by following the steps above.